ambrosia® bee feed fondant
ambrosia® bee feed fondant is a paste-like mass of micro-fine sugar crystals surrounded by a syrup film of various types of dissolved sugar. The syrup keeps the crystals from crusting over and makes it easy for the bees to ingest. Because of its low moisture content, ambrosia® bee feed fondant is shelf stable for at least 24 months when stored properly.
The ready-to-use product is available in the following packaging types:
15 kg box with inner foil
2,5 kg single serving package (PE foil package in a box of 5 items)
We highly recommend the practical single serving packages. Feeding the fondant is quite simple: the 15 kg package, along with the foil, is removed from the box and the open side is placed on the frame. Fondant can also be cut from the block and portioned as needed. The foil keeps the fondant from drying out.
With the 2,5 kg package, a slit about 2 cm wide is cut on the long side. That allows the bees to take out about 400 g per day for a period of 7 days. The fondant is also recommended for building nucleus colonies and for queen breeding.
carton
15 kg
Art.-Nr.: 37237
Quantity per pallet: 50 pieces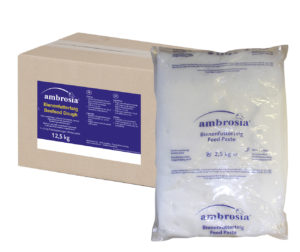 single serving package
5 x 2,5 kg
Art.-Nr.: 372998
Quantity per pallet: 64 pieces
Storage
Store in a dry place between 10°-17°C. Avoid frost.
Best before date:
Bee feed fondant in original trading unit: 18 months. Single packaging: 12 months. Provided intact packaging and proper hygiene. Open packages to be used in a timely manner.
We gladly answer your questions and recommend a specialized local retailer.